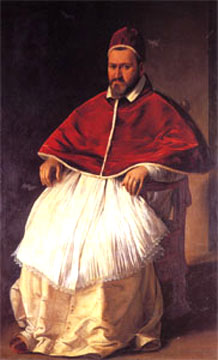 Camillo Cardinal Borghese, Cardinal Priest of San Crisogono, former Bishop of Jesi, Vicar General of His Holiness for the City of Rome, Secretary of the Supreme Sacred Congregation of the Roman and Universal Inquisition. Elected Bishop of Rome on 16 May 1605 in the Vatican Apostolic Palace, taking the name Paul V, and was crowned on 29 May.
Pope Paul V died on 28 January 1621 in Rome, in the 16th year of his pontificate. He was buried on 7 February in the Patriarchal Liberian Basilica.
Facade of San Pietro in Vaticano, completed during the reign of Pope Paul V and to whom the dedication makes reference.
(H/T to The Cafeteria is Closed).